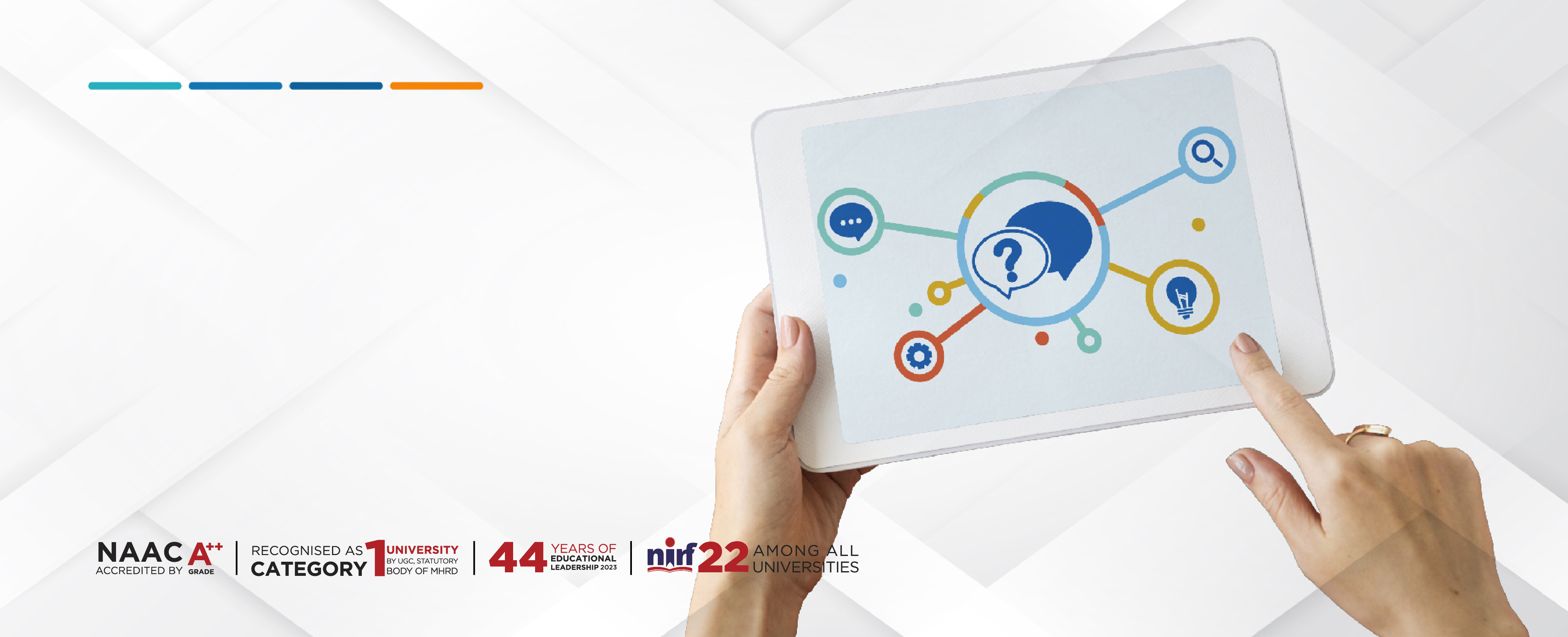 FAQS
Are all the programs approved by UGC?
KLH GBS is a UGC-recognized university. All the courses that we offer are UGC recognized. Thus, every degree you get from our institution is valid for applying to private or government jobs.
---
What is the eligibility criteria for admission?
KLH GBS provides admissions through a written test and an interview. Candidates must pass a 10+2 or equivalent exam with a minimum of 55% and above to be considered.
---
What is the application fee to apply and is it refundable?
Students need to submit an online application form and pay ₹1000 through Credit card, Debit card, or Net banking. The application fees/processing fee that is paid by the student is non-refundable under any circumstance.
---
Where can I find the application form?
The application form for KLH GBS can be found on the official KLH GBS website or you can reach our admissions team.
---
How can I check my application status?
The best way to check your application status is to contact the KLH GBS where you submitted your application. They can provide you with specific information about the status of your application.
---
Is there any entrance test necessary to take an admission?
Yes, there is an entrance test necessary to take admission in KLH GBS. You must appear for the entrance exam KLMAT offered by the KLH GBS.
---
Whom should I contact for admission related queries?
You should contact the admissions office of KLH GBS. They will be able to provide you with information on admission requirements, deadlines, and any other questions you may have.
---
What are the programs available at KLH GBS?
KLH GBS offers courses such as BBA, BBA - IT, BBA - AI&DS, MBA, MBA Multi-specialization (Data Science, Fintech, Entrepreneurship and Venture Development), B.Sc Gaming and Animation.
---
What is the fee structure for the programs available at KLH GBS?
Refer our Fee Structure section on KHS GBS website to get more information on different programs offered and the respective fee structures.
---
What are the study facilities that KLH GBS offers to students?
KLH GBS offers students with library resources, hobby centers, a multi-purpose room with carrom, chess, etc., research centers, computer labs, student hostels, and bus facilities.
---
Does KLH GBS offer placements for the students?
KLH GBS provides resources and support to help students find internships and job opportunities. KLH GBS offers a range of services, including career counseling, resume writing, and job search assistance.
---
Is it possible to get an internship abroad?
Yes, it is possible to get an internship abroad with KLH GBS. The college offers a variety of internship programs in other countries. The internships can range from few weeks to several months. Please refer to Internship Abroad Program for more details.
---
Are anti-ragging measures in place at the campus?
The KLH GBS campus takes a zero tolerance approach to any form of ragging, it is strictly prohibited on campus. The college established a set of rules and regulations to be followed by all students on campus. These regulations are strictly enforced and any student found to be in violation of these regulations is subject to disciplinary action.
Please refer to Mandatory Disclosures for more information.
---
Are hostels and transport facilities available for students?
KLH GBS offers hostels and transport facilities to students. Hostels provide safe and comfortable living for students. Transportation facilities include buses to make commuting easy and convenient. Buses are available for both pick-up and drop-off services.