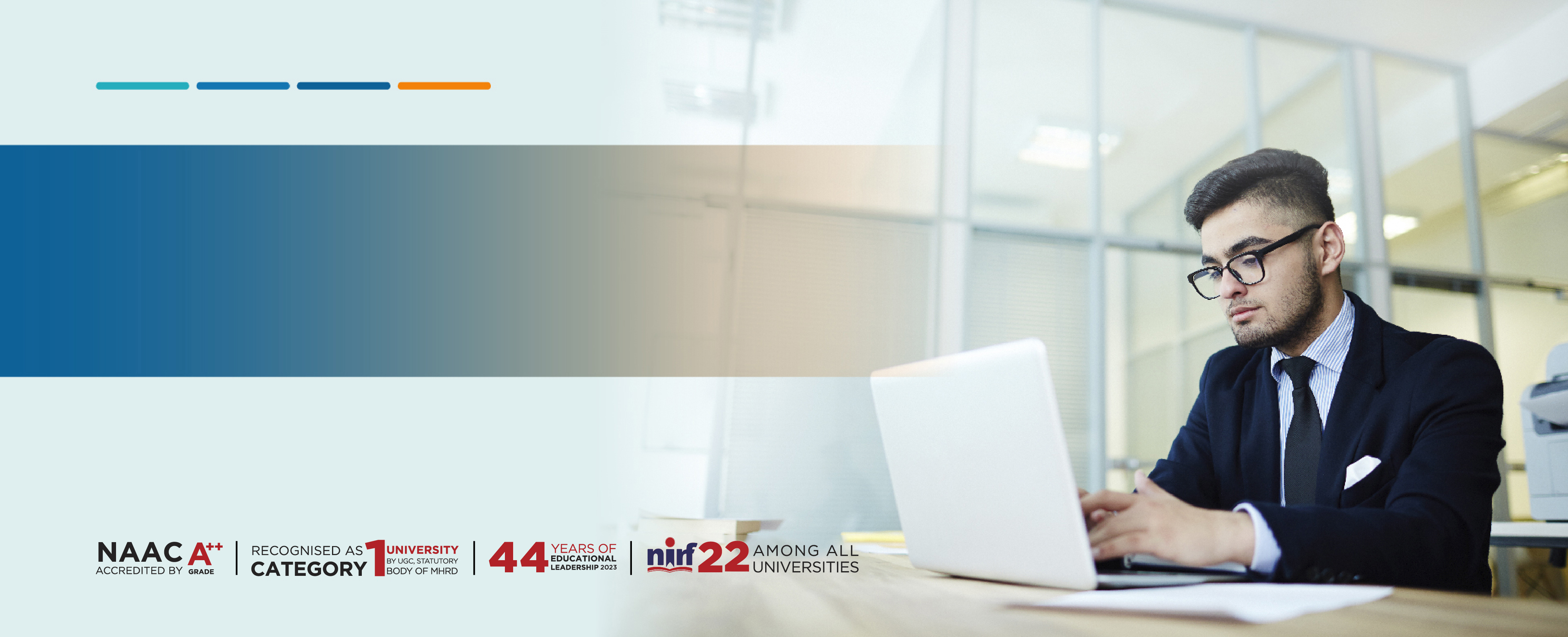 Program Overview
The Bachelor of Business Administration (BBA) is a three-year undergraduate degree program that provides the foundational knowledge and skills needed to pursue a career in business. The curriculum includes BBA courses in accounting, economics, finance, management, marketing, and more.
Students are encouraged to gain practical experience through internships and other experiential learning activities. The program offers the necessary education and training in management and leadership skills to prepare students for managerial roles and entrepreneurship.
By completing a three year program subject to the fulfillment of the requirements the student will be awarded BBA degree if the student opt out to leave the organization. After completion of the BBA program, students can also join an MBA.

Program Structure
Business Communication Skills I
Business Mathematics
Business Environment
Business Economics
Perspectives of Management
Foreign Language I
Campus to Corporate 1
Business Communication Skills II
Introduction to Financial Accounting
Business Statistics
Organizational Behaviour
Ecology & Environment
Foreign Language II
Campus to Corporate 2
Business Communication Skills - III
Management Accountancy
Marketing Management
Human Resource Management
Business Research Methods
Macro Economics
Campus to Corporate 3
DesignThinking and Innovation I
Cost Accountancy
Production and Operations Management
Business Law
Financial Management
Business Model Generation
Campus to Corporate 4
DesignThinking and Innovation II
Business Analytics
Soft Skills
Fundamentals of Digital Marketing
Research Paper Writing
Consumer Behaviour
Banking & Insurance Management
Personal Effectiveness and Self-Leadership
Fundamentals of Logistics
Business Intelligence and Data Mining
Product and Brand Management
&nbsp
&nbsp
Investment Management
Dynamics of Industrial Relations
Materials & Warehousing Management
Data Visualization with Tableau
Advertising and Sales Promotion
Financial Services
Human Resource Development
Freight Forwarding & Surface Transportation
Business Analytics with R Programming
Entrepreneurship
Strategic Management
Enterprise Resource Planning
Creativity & Innovation
Yoga & Health
Customer Relationship Management
Financial Markets
Performance Management System
Forecasting & Inventory Management
DBMS
Services Marketing
&nbsp
&nbsp
Managing Personal Finance
Labour Legislation
International Logistics
Introduction to Python
Rural Marketing
Financial Derivatives
Training & Development
Total Quality Management
Advanced Excel
PROGRAM EDUCATIONAL OBJECTIVES
To educate the business graduates to respond effectively in meeting the competitive business needs of the society.
To nurture the spirit of Entrepreneurship among the students that propagates the business world.
To train the students in emerging as efficient managers equipped with innovation, rationality and application oriented decision-making in the context of the
ever-changing business environment.
To train the students in emerging as efficient managers
To equip with innovation, rationality and application oriented decision-making in the context of the ever-changing business environment.
Program Outcomes (PO's)
| PO NUMBER | DESCRIPTION |
| --- | --- |
| 1. Core Business Knowledge | Able to synthesize the knowledge, management skills, and tools acquired in the program, which will be helpful to shape the organizations effectively. |
| 2. Career Planning and Decision Making | Able to excel in their chosen career paths, by learning on how to live, adapt and manage business environmental change through decision making. |
| 3. Critical Thinking and Leadership | Able to reflect upon and explore business and research problems in depth, to demonstrate leadership skills and to demonstrate ability to pursue new knowledge necessary to succeed in dynamic domestic and international business environments. |
| 4. Team Building & Business Communication | Able to communicate effectively and to perform different roles efficiently as an individual or in a team in multi-disciplinary streams with entrepreneurial edge. |
| 5.Application of Statistical and Analytical tools | Able to gain knowledge of contemporary issues and develops an art of using current techniques, skills and necessary analytical tools for managerial practice. |
| 6. Business perspective and Sustainability | Able to gain an understanding of professional, legal, financial, marketing, production & operational activities, logistics, ethical, social issues and responsibilities. |
| 7. Environment & Sustainability | Demonstrate the knowledge of solutions, related documents and their impacts on societal and environmental contexts, leading towards sustainable development. |
| 8.Ethical Awareness | Facilitate the students to understand the importance of ethical values and their application in professional life. |
| 9. Manager & Society | Able to emerge as efficient managers equipped with innovation, rationality and application oriented decision-making in the context of the ever-changing society. |
| 10. Effective and Influencing communication | Effective and Influencing communication ability to share thoughts, ideas, and applied skills of communication in its various perspectives like written communication, speech communication, etc. |
PROGRAM SPECIFIC OUTCOMES
Graduates will develop a goal-oriented sense of business purpose.
Graduates will be able to excel in their chosen career by experiential learning, critical and analytical thinking.
CAREER SCOPE/OPPORTUNITIES
Business administration graduates often find employment in a variety of industries, including finance, healthcare, retail, manufacturing, and government. They have scope to pursue higher education - MBA.
With a degree in Business Administration, one can pursue a career as a financial analyst, business analyst, marketing manager, operations manager, human resources manager, or project manager.
Fee Structure
| PROGRAM NAME | DURATION (in Years) | FEE / SEM | FEE/ YEAR (Full Fee based on scholarship)* | FULL FEE / YEAR | ELIGIBILITY for Admission |
| --- | --- | --- | --- | --- | --- |
| BBA | 3 Yrs | Rs. 1,20,000 | Rs. 2,40,000 | Rs. 2,55,000 | 55 % |
| ERP FEE-BBA shall be paid in 2nd & 3rd years | | Rs. 22,000 in Even Sem of 2nd & 3rd yr | | | 55 % |
Admission Criteria
The BBA course eligibility criteria is that candidates must pass 10+2 or equivalent with a minimum of 55% or more to get admission.
Frequently Asked Questions
1. Is it mandatory to appear for KLH GBS Entrance Test?
A. Yes, it is mandatory to appear for the KLH GBS Test in order to be eligible for admission into the BBA program.
2. What are the specializations offered in the KLH GBS BBA program?
A. The specializations offered in KLH GBS BBA program include Business Administration, Human Resource Management, Marketing Management, International Business, Entrepreneurship, Accounting & Finance.
3. What is the application fee to apply and is it refundable?
A. Students need to submit an online application form and pay ₹1000 through Credit card, Debit card, or Net banking. The application fees/processing fee that is paid by the student is non-refundable under any circumstance.
4. Are there any collaborations between KLH GBS and other organizations for project training or internships?
A. The university is very critical in choosing the organization to which it will send the students for internships and training. The university has collaboration with several institutions abroad. Please refer to the Internship Abroad Program at https://gbs.klh.edu.in/internship-abroad-program
5. Does the course offer training in developing soft skills/personality?
A. The course structure includes a program for developing soft skills and personality.