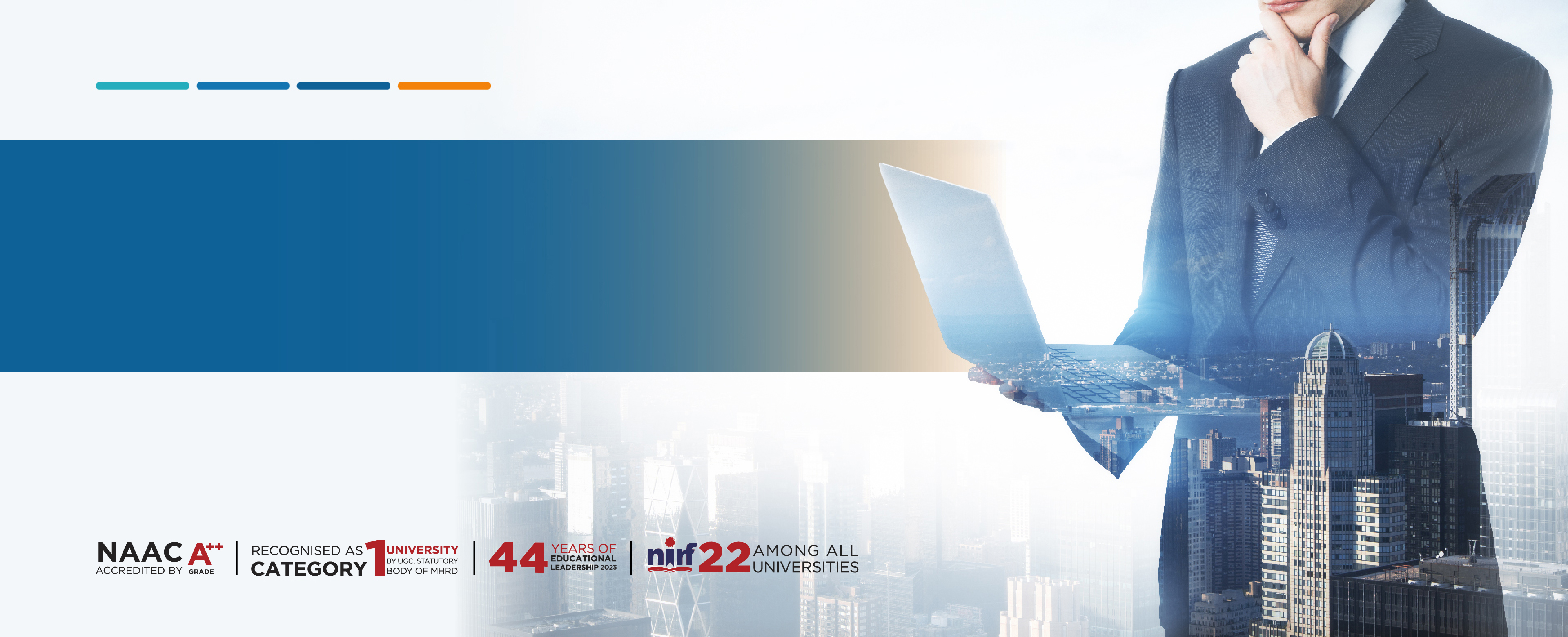 Program Overview
The Bachelor of Business Administration in Information Technology (BBA-IT), a three-year program, is designed to provide students with the knowledge and programming skills necessary to succeed in the IT industry. The program focuses on the development of problem-solving and analytical thinking as well as the integration of technology applications into business operations.
The BBA in IT course focuses on both the theoretical and practical applications of information technology in the business world. Students learn the fundamentals of computer programming and software development, as well as the principles of business administration.
Upon completion of the BBA in information technology, students will have gained a comprehensive understanding of the IT industry, from the basics of hardware and software to more advanced topics such as network administration and database design. They will also have the necessary skills to design, develop, and deploy IT solutions.

Program Structure
Integrated Professional English
Business Mathematics
Business Environment
Business Economics
Perspectives of Management
IT for Business Managers
Advanced Excel
English Proficiency
Introduction to Financial Accounting
Business Statistics
Organizational Behaviour
Management Information Systems
C Programming
Marketing Management
SIP1
Essential Skills for Employability
Management Accountancy
Human Resource Management
Business Research Methods
Macro Economics
Data Analytics Using 'R'
DesignThinking and Innovation
Cost Accountancy
Production and Operations Management
Business Law
Financial Management
Web Technologies
Software Engineering
Data Warehousing and Data Mining
SIP2
Business Analytics
Soft Skills for Managers
Fundamentals of Digital Marketing
Research Paper Writing
Object Oriented Programming using Java
Python Programming
Operating System
Entrepreneurship
Enterprise Resource Planning
Strategic Management
Income Tax & GST
.Net Programming
Computer Network and Information Security
DBMS
SIP3
PROGRAM SPECIFIC OUTCOMES
Students will acquire and demonstrate analytical and problem-solving skills within various disciplines of management, business, accounting, economics, finance and marketing using Information Technology
Students will analyze the opportunities and challenges of the global and dynamic business environment with special References of IT.
Students able to design, develop and apply business models and strategies using IT tools to address business problems and the needs and interests of various stakeholders.
CAREER SCOPE/OPPORTUNITIES
IT Management is the popular area of employment for BBA graduates. Those who prefer IT specialization in BBA are often employed in positions that have both technical and managerial functions.
Students with a BBA-IT degree have the scope to work as network security specialists, web designers, business intelligence managers, and information systems officers.
Fee Structure
| PROGRAM NAME | DURATION (in Years) | FEE / SEM | FEE/ YEAR (Full Fee based on scholarship)* | FULL FEE / YEAR | ELIGIBILITY for Admission |
| --- | --- | --- | --- | --- | --- |
| BBA-IT | 3 Yrs | Rs. 1,30,000 | Rs. 2,60,000 | Rs. 2,75,000 | 55 % |
| ERP FEE-BBA shall be paid in 2nd & 3rd years | | Rs. 22,000 in Even Sem of 2nd & 3rd yr | | | 55 % |
Admission Criteria
Candidates must pass 10+2 from a recognized educational board with a minimum of 55% or above to be eligible for the BBA-IT program.
Frequently Asked Questions
1. What is the specialty of the BBA-IT program?
A. Yes, it is mandatory to appear for the KLH GBS Test in order to be eligible for admission into the BBA program.
2. What is the selection process for the BBA-IT program?
A. The selection process for the BBA-IT program includes an online application, followed by the KLMAT and an interview conducted by the university.
3. Is the outline of the course the same for BBA-IT and BBA-General?
A. The core topics are the same for both courses, but BBA-IT has additional courses that are solely focused on IT.
4. What are further study options with the BBA-IT?
A. Graduates of the BBA-IT program may enroll in any course for which a BBA degree is required. Some of the courses that you can consider are MBA- Master of Business Administration and other courses related to business and management.
5. What are the average salaries we can expect after completion of the BBA-IT program?
A. BBA-IT graduates are often paid good salaries.