7 Things to Consider While Applying for a Business School
A business school, also referred to as a school of management or B-school, confers a business administration and management degree upon course completion. Business schools are generally considered a stepping stone toward a successful career in the world of business. Attending a business school prepares students and working professionals to navigate real-world problems, risks, and challenges strategically.
That's not all. Studying in a B-school provides many advantages and opportunities to help students' overall development, ranging from networking opportunities to access to lucrative jobs. However, due to the mushrooming of B-schools, choosing the right school with the potential to offer a promising future is imperative. So, the question now arises: "How to choose a business school?"
In this blog, we will discuss the top seven factors that must be considered before moving forward with an application.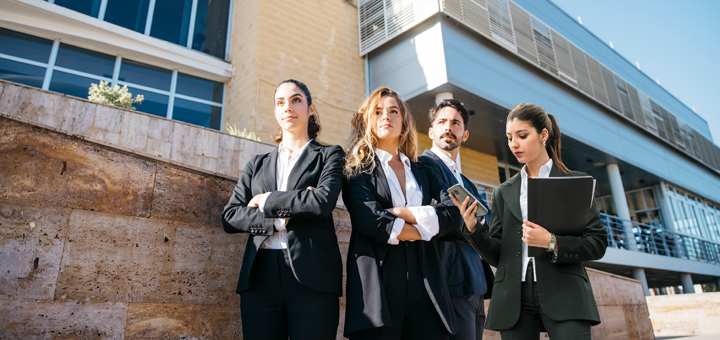 Factors to Consider While Choosing a Business School
"What do you expect from a business school?" is the first thing that pops up in a student's mind while selecting the right institution to pursue an MBA. So, here are the top factors to look for before applying to a business school.
1.Ranking
High-ranked business schools are often perceived as providing high-quality education to prospective business leaders. According to Forbes, the ranking of MBA programs is mainly based on the return on investment graduates receive on attending business schools. The ranking of a business school is also based on cost, as it decides whether the program's fee is worth the student's time and money
2.Accreditation
Attending an accredited business school makes you more employable in the job market. Employers consider students who have graduated from an accredited business school over others due to certain credibility associated with their accreditation in the business world.
3.Curriculum
The business environment is dynamic as new technologies are being introduced every day. Therefore, institutions must expand the syllabus regularly to meet the cutting-edge industry demand. Those business schools that offer a curriculum in line with industry-ready skills are considered the best institutions to earn an MBA degree
4.Industry Exposure
Exposure to a broad range of industries allows students to develop in-depth knowledge about the field. They get to learn how corporations work in real life, what kind of challenges businesses face, and strategies to tackle complexities in a business. In addition, students get the opportunity to meet new people and build networks.
5.Faculty
When deciding on a college, do not overlook faculty, as they play a significant role in the holistic development of students. Faculty impart their acumen to help students diversify their skills and incorporate values. Look for practical-oriented teaching practices before choosing a business school.
6.Placement
Securing a job upon completing the course is essential for students to get a quick start on their careers. Starting early in a career helps students grab more job and growth opportunities.
7.Location
A university's location plays a significant role in the overall development of a student. Moreover, the location of a university is way more than just a physical address, as a prime location allows students to attract valuable opportunities. It helps students network with industry professionals or secure internship or job opportunities.
Why Get a Business Degree from KLH GBS?
Earning an MBA degree does not only add value to a student's resume but also benefits them in innumerable ways. MBA is a coveted degree; it has become a minimum qualification to apply for specific roles in many companies. Therefore, choosing a university that can make a difference in your career path is necessary.
Admittedly, KL Deemed to be University bagged 16th rank among the top MBA colleges in South India in 2021. KLH GBS offers tailor-made and industry-relevant MBA programs. If you're wondering why to choose a global business school, you would be surprised to learn that potential employers consider top-notch B-schools as they churn out better-prepared graduates. So, KLH GBS is a quality global business school , and attending it helps MBA graduates break into specific highly competitive business sectors.
FAQ's
1.What questions to ask about an MBA?
While deciding on a business school, looking for the class size, faculty, curriculum, placement record, industry connections, and specializations is imperative. You can also discuss the schedule and teaching methodologies.
2.What matters most in MBA admissions?
The only things that admittedly matter in MBA admissions are your entrance test score, work experience, and leadership potential. However, there's no denying that your solid numbers can help your application stand out.
3.What is expected from MBA students?
MBA students are expected to possess a set of diverse skills, such as leadership, effective communication, positive attitude, time management, adaptability, critical thinking, problem-solving, networking, and many more.
4.What is the impact of an MBA degree??
An MBA degree provides an excellent foundation for success in business management or consultancy careers, so several factors must be considered while applying to a business school for a better return on investment.