International Conference on Management Practices in the D- VUCAD World
KLH Global Business School has organized an International Conference on Management Practices in the D- VUCAD World from 24th to 25th March 2023 at the Kondapur campus, Hyderabad. The conference was organized under the Azadi ka Mahotsav celebration India 2.0- Vision for India in 2047. The conference aimed to create an opportunity for entrepreneurs, research scholars, academicians, corporate executives, and industry leaders to conglomerate for knowledge sharing and discuss the major aspects of sustainable innovation, leadership, and entrepreneurship in the D-VUCAD world.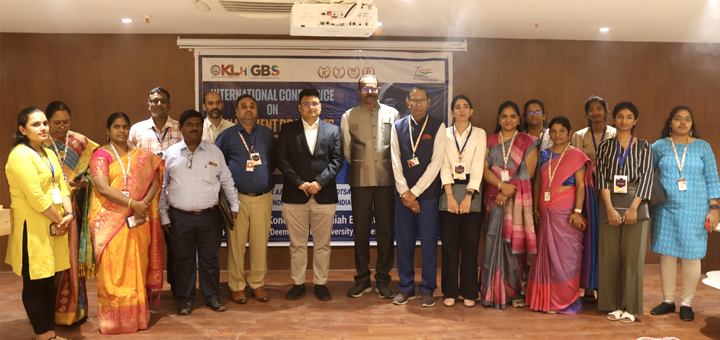 The inauguration of the conference witnessed the presence of the chief guest, Mr. Saurabh Kumar, CEO of GMR Air Cargo, Dr. P. Raghunadha Reddy, Professor and Head, Department of Management Studies, SV University, Tirupati, Dr. L. Koteswara Rao, Principal, KLH Hyderabad, Bowrampet campus, Dr. A. Ramakrishna, Principal, KLH Hyderabad campus, delegates, and other faculty members.
Delegates from both national and international countries had participated in this two-day conference. The objective was to provide an opportunity to share best practices and develop partnerships for, teaching, research and outreach on responsible business and sustainable development. Extensive discussion were held on innovative ideas, effective strategies, and avenues as a gateway to confront upcoming challenges in the future, particularly in the areas of environmental social governance, sustainable finance, resource management, digital era, and so on. The objective was to identify the skills needed with the adoption of emerging digital technologies, analyze the changes in different domains in the D-VUCAD world, and identify the business opportunities in India and educational reforms in innovation and entrepreneurship.