KLH GBS Students Bags International Internship with ECLEE, France
Internships are a valuable opportunity for management students to put their learning into practice, test their theories, and refine their professional and social skills in a real-world setting. It's a great way to stand out from the crowd in the competitive job market. Recently four students of KLH GBS namely Abdul Azeem Uddin and Harshita Verma from #MBA First year, and Triveni and Sushma from MBA Second year, have been awarded an International Internship with the European Centre for Leadership and Entrepreneurship Education (ECLEE) in Lille, France.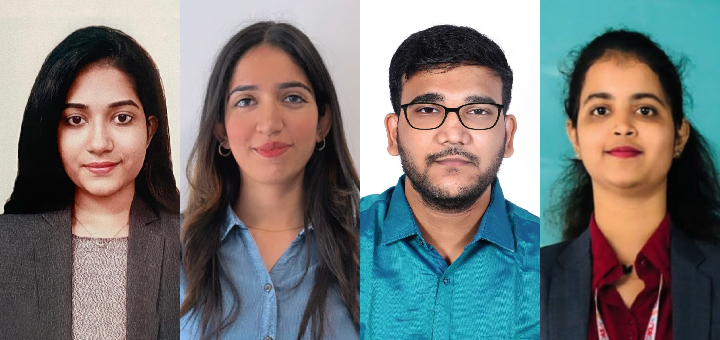 This team will be working as Management Interns with a financial stipend of 100 Euros per month to each. The selection process was based on a personal interview, where they were assessed on their knowledge of digital marketing and website design. This opportunity will allow them to gain practical experience and enhance their skills in the field of digital marketing.
These interns will be working on a diverse range of projects related to digital marketing management. They will be responsible for developing offerings for ECLEE and Jagora University, selecting programs, designing, launching, and managing weekly campaigns. Additionally, they will be developing digital brand strategies, organizing webinars, conducting market analysis, identifying trends by category such as students, professionals, Europe, USA, Africa, and Asia, designing appropriate digital marketing strategies, launching campaigns, and monitoring results. These tasks will provide the interns with practical experience in various aspects of digital marketing, allowing them to develop essential skills required in the industry.
In addition, if these GBS students perform exceptionally well during the internship, they may be considered for full-time employment with ECLEE depending upon their decision based on the performance. "This is an excellent opportunity for us to showcase our skills and gain valuable work experience in this field of study. It is also a great way for us to build our professional network and gives opportunity work and learn with a reputable organization like this."
The European Centre for Leadership and Entrepreneurship Education is an independent training, education, and research institution specialized in curriculum innovation, continuing education, and workforce development. They provide advanced manufacturing, aerospace quality, aerospace structures, apprentice toolmaker, CNC machining center, composite manufacturing and repair, mechatronics industrial automation, quality assurance, safety, lean six sigma yellow belt, lean six sigma green belt, lean six sigma black Belt, Leadership, E-learning.